Hvornår:
06/09/2023 kl. 19:15 – 20:45
2023-09-06T19:15:00+02:00
2023-09-06T20:45:00+02:00
Hvor:
Rådmandsgade 59, Nørrebro, Cph
Rådmandsgade 59
Nørrebro
Kontakt:
Simon Christian Larsen
+45 30273229
An acroyoga course for beginners in Copenhagen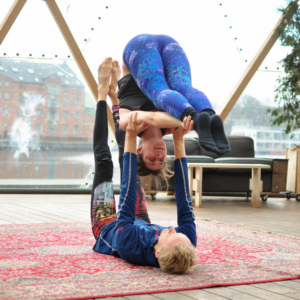 ABOUT THE LEVEL:  If you have never practiced acroyoga before, or if you have done it a little bit, this is for you. The classes will teach you the foundational elements of acroyoga. Everyone can join. You don't need any special strength or flexibility. We're going to play with a lot of different partner exercises and fun acrobatic poses. We will learn to find balance with and build trust in each other. Play, teamwork and community are always in focus.
Most people sign up alone but you are of course welcome to sign up with someone. We'll be working a lot in groups of three.
THE TEACHER
Simon Christian Larsen: In the rainforest, I began teaching acroyoga. I quickly felt this was something I was passionate about. I left Costa Rica in 2016. Since then, I've been teaching acroyoga back home in Denmark. I teach weekly acroyoga classes in Copenhagen. In addition, I teach physical education teachers so they can pass on acroyoga to students in school, and I teach teambuilding through acroyoga at company events, bachelorette parties, etc.
WHEN & WHERE
Wednesdays 19:15 – 20:45 at Rådmandsgade 59, Nørrebro. The course begins on the 6th of September 2023.
PRICE, STUDENTS
740 kr. (half course) / 1160 kr. (full course)
PRICE, EVERYONE ELSE
840 kr. (half course) / 1360 kr. (full course)
Half course: 7 classes from 6 September – 18 October 2023
Full course: 14 classes from 6 September – 13 December 2023
SIGN UP
You sign up by paying and sending an e-mail to simonsakroyoga@gmail.com writing that you wish to join "beginners". I don't have MobilePay, so kindly pay via bank transfer to Merkur Bank, reg. 8401 account 0001297409. The spot is yours as soon as payment has been received.
CANCELLATION
If you cancel before 13 August 2023, you will get a 100% refund.
If you cancel between 13 August and 6 September 2023, you will get a 50% refund.
If you cancel after 6 September 2023, I unfortunately cannot offer a refund.